On March 26, 2023 I am going to embark on a mission that if successful will raise funds to help fight food insecurity in our county and heal a bit of my inner child's heart. I am attempting to raise awareness and funds to help end food insecurity by knitting my hands off for twelve hours and in that time I am going to attempt to knit myself another Winston.
Who is Winston?
Winston is the first sweater of adult size proportions that I knit for myself after being influenced by another knitter. The beauty of the Winston Pullover (designed by Jane Richmond) is that it is knit up with bulky weight yarn on larger sized needles. The suggested yarn in the pattern is Lion Brand Wool Ease Thick and Quick yarn and calls for about seven skeins in my size. While in the more affordable range for a sweater's quantity of yarn it was still stretching my thinning budget for this particular month. What I did have was a basket full of partial skeins of Thick and Quick and a plan to bring a scrappy winston to life.
I soon realized that I could recreate a scrappy Winston that reminded me of a sweater that I picked out for school as a young child but was never able to wear it because by the time my parents were able to get the layaway out I had had a massive growth spurt and all of these beautiful winter clothes didn't fit and I wasn't allowed to wear them. 
I remember trying on outfit after outfit that was comically small as my mother shook her head. I don't remember what happened to those clothes, I just remember that I wasn't able to wear them and they were replaced with someone else's hand me downs. 
The hard truth is that I didn't get a new wardrobe of clothes because my parents simply could not afford them. Financial insecurity plagued my entire childhood; some of my earliest memories are of me getting shuttled back and forth between houses telling my parents what I needed and the other parent telling me why they couldn't provide it. I felt like a burden. 
Often times with financial insecurity often comes food insecurity. Food insecurity, according to the oxford dictionary is the condition of not having access to sufficient food, or food of an adequate quality, to meet one's basic needs. They share a startling statistic "more than 800 million people live every day with hunger or food insecurity as their constant companion"
There were some days where the only substantial meals I had were the free ones from school. I loved going to spend time at friend's houses and I would eat anything you would put in front of me. I didn't realize that you could have food preferences until I was well into my 20s when my husband and I realized that I didn't like strawberries. Food was something that you ate when it was around and if you had preferences chances are you were going hungry.
Related you learn quickly which foods you can eat at open buffets without raising an eyebrow. Fill your plate up with pickles; that's a no, but radishes are always a go.
What does all of this have to do with a sweater named Winston?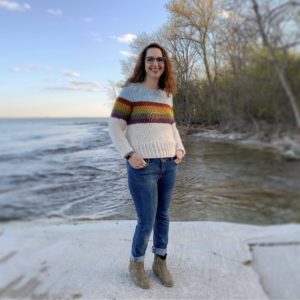 Four years ago when I knit my first scrappy Winston I really didn't know what I was doing and I did the best I could with the tools I had at the time; much like my parents did raising their families. Outward Winston looks great and each time I force myself to wear it I get so many compliments. I've even gotten a shoutout from the designer on my take on her design. If I didn't tell you that it was ill-fitting you may have never known. I want a Winston that I will actually want to wear because as ill fitting garments bunch and pull in ways on your body and I don't enjoy how it feels. 
I want a Winston that I will truly love.
Creating a sweater in twelve hours is no small feat, even with bulky yarn but I look forward to the challenge. And if I'm being fully transparent I will start some of the prep work on the day before to help me in my quest. If you would like to support me in this endeavor with raising funds while I do something I love you can donate here to help me meet my goal. If you don't have extra funds in your finances I get it and thankfully there is a no cost way for you to help as you can also share this post on your preferred social media channels.  
Knit for Food was started in 2021 by Laura Nelkin to raise funds and awareness of food insecurity in America. The money raised this year, all 100% of the donations as Give Butter doesn't take a cut of the fundraising, will be split evenly between Feeding America, World Central Kitchen, No Kid Hungry, and Meals on Wheels. Last year the knitters raised $271,761!
If you would like to join me during the knit-a-thon virtually or in-person please let me know in the comments as I would be happy to knit or crochet with friends. I also hear that Nichole & I may do a live during my twelve hours of fun. Don't worry you don't have to commit to knit a sweater, just make something fun with your yarn that your younger self would love. 
I look forward to this knit-a-thon and the sweater that it will create. I can't go back and feed young Heather but I can help to heal her heart with a proper fitting and beautiful rainbow sweater.