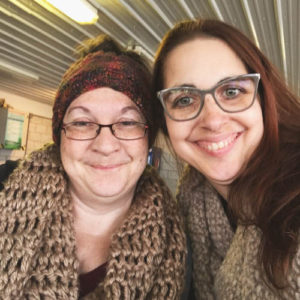 Did you know that I co-host a podcast with one of my closest friends called Stitching the Miles Together? For years she tried to convince me that I should create a podcast about all of the things running rampant around in my brain and that she would be a guest from time-to-time. I always knew that we would be in this together and finally convinced her that we could do a LIVE video chat that we would share with our audience and thus Stitching the Miles Together was born.
We are two friends that are over 4,000 miles apart that share our love of yarn related crafts and our life with all of you. If you catch the show live on the Heather Spins a Yarn Facebook page you will be able to interact with us through the comments section of the live video. We meet each Friday at 4 p.m. EST / 12 p.m. AKST here. If you can't catch us live, no worries we always leave the replay up and respond to comments as we are able.
And since we are talking about getting together virtually to stitch did you know that I host virtual stitching groups? If you are interested in signing up you can fill out the Google form here.