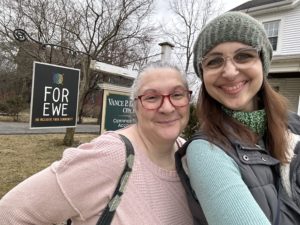 Have you ever met someone and they instantly fit perfectly in your puzzle of life? This is the feeling when I had when I first walked into For Ewe: An Inclusive Fiber Community in November of 2022. Lisa and her husband have done a fantastic job making this local yarn shop (LYS) a welcoming and inclusive space in Oberlin, Ohio. I feel like I have known Lisa forever and that her yarn shop has always been my LYS.
In fact I may be feeling a bit guilty that I am not there to support Lisa in person today but a scheduling blunder means that I will have to celebrate vicariously through those that are there in person. Although talking myself through this "problem" means  that I may be there for knit night on Wednesday when I am traveling through the area again. Gosh I love silver linings; both the yarn that I picked up from Lisa and the unexpected happy events.
I've been to many a yarn shops in my day and not all of them are created the same. The thing I love most about For Ewe: An Inclusive Fiber Community is that it is like the owner crawled into my brain and made the perfect yarn shop just for me. ALL of my favorites were in one place which is a dangerous thing for my pocketbook. Yes I say pocketbook in real life; I also say things like davenport and rubbish. 
How did you know it was inclusive?
The first time I popped into the store it was a Friday around 4 p.m. and I decided to check it out and grab a skein of sock yarn to celebrate my youngest daughter's baby shower weekend. When I arrived Lisa asked if I had come in for anything in particular and when I told her she showed me the sock yarn and gave me a tour of the store. After she showed me where everything was she went back to knitting and she and I chatted while I was squishing all of these things that I had only previously seen online, and you know, in my dreams.
When I realized that it was nearing closing time I grabbed up all of the things that called out to me and used most of my yearly yarn savings in one trip and set them on the counter. Lisa was shocked and reminded me that I had only come in for a skein of sock yarn. We both chuckled at how things had escalated quickly.
I told her that I never once felt the way I felt in her store as she respected the fact that I was masked, that I wasn't sure what I wanted, and she was okay with me touching all of the things. "How else are you going to pick out yarn?" she asked.
Often times when I've gone to other yarn shops I haven't felt as welcome especially when I am on a quest for that one skein of yarn or that one notion. I don't expect a shop worker to hold my hand or to chat with me incessantly when I am shopping but I would like to feel like I am not a disruption to their day.
I apologize to my customers that I make feel that way when I am in the middle of something at work. I know that running a small business solo isn't always the easiest but without customers making purchases there's really no reason to do all of the other things associated with the business. I am so glad that Lisa gets this so right!
When I love something I share it with others
For the entire month of December I am fairly certain that I tagged For Ewe: An Inclusive Fiber Community in about 75% or more of all of my Instagram posts, stories and reels. I took my younger daughter and son-in-law there where Ariel thought we were in the presence of Birdie Parker. And just last month I took my yarn bestie and Stitching the Miles Together podcast co-host there to let her pick out her birthday slash souvenir yarn from her trip to Ohio.
Did you know that you can support any business that you love just by sharing about them and bonus it doesn't cost you anything but a little time. Fill out that review form, tell your friends and family, and definitely overshare on social media; I promise that you may feel like a bit of a stalker but that small business will truly appreciate it.
This isn't the last that you will hear about Lisa Whitfield and the amazing fiber community she's building at For Ewe: An Inclusive Fiber Community; stay tuned for and upcoming video on the Heather Spins a Yarn YouTube channel.
If you would like to visit For Ewe: An Inclusive Fiber Community you can either shop online here or visit the store in-person at 181West College Street, Oberlin, Ohio 44074. Please be sure to check her page for current hours of operation and when you stop in please let her know that Heather Spins a Yarn sent ya!
Do you have a LYS that you think I should visit? Let me know in the comments and I will add it to my list!
photos taken by me and highlight myself, my yarn bestie Nichole and lots of beautiful yarn.