There is something amazing about wearing a garment that you created specifically for yourself and fits exactly like you planned it would. Internets, I would like to introduce you to my Daisy Gaze Pullover crochet tee. Heather Crochets the Daisy Gaze Pullover was over a year in the making and after wearing this tee all day long I am legit kicking myself for not weaving in the ends sooner.  Before we get to all of that a quick note that if you want the quick stats on yarn that I used and the pattern rating please click here to check out my Ravelry page where you can also purchase the pattern from the designer.
This post may contain affiliate and/or other links that when clicked may benefit me monetarily in one way or another. Please click here if you would like to review my privacy & affiliate policies. Now where were we…
I made myself a sweater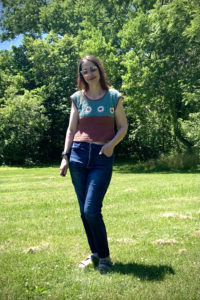 Do you remember up above where I said there was something amazing about wearing something that you made and fits exactly how you planned it would. The word and is very important in that sentence as I have plenty of things I have crochet or knit for myself where they didn't fit my body like they should due to improper stitching techniques, poor measuring, not understanding the pattern, and lack of gauge swatching thus making them unwearable.
I have learned from past mistakes and I did all of the right things and ripped back when needed to get a crocheted sweater that fit me perfectly, except that it looked too small. That little word except nearly did me in as I didn't have the heart strength to take one more failed garment attempt. So I decided that the ends were being a pain and there were so many of them that I decided to put the project on pause and set it in my WIP pile.
Quick details – Pattern Daisy Gaze Pullover designed by Lindsey Muscarella @justtheworsted on Instagram (psst I'm @heatherspinsayarn there too!) Yarn is Yarn Bee Sugarwheel Cotton Solids that I purchased from Hobby Lobby.  I had to size down a crochet hook from the suggested size in the pattern, but this is not uncommon for me as I am a pretty relaxed hooker.  If you know me you know I had to throw that in there.
It took an hour to weave in the ends
I've never crocheted a garment out of cotton yarn before and underestimated the tail you should leave behind as cotton and animal fibers behave differently. How I typically weave in ends for my knit garments and crochet hats is to take a smaller hook and take it through a bunch of stitches and locking it in. With the lack of stretch in the cotton yarn this wasn't as easy as it had been for me on other projects and when I tried to use my latch hook to weave in the ends – well let's just say that didn't end well and we were both frustrated. Yes, both I and the latch hook were frustrated. It was after these failed attempts at weaving in the ends that I decided that maybe it wasn't meant for right now and put it WIP pile.
You don't have a WIP (Work In Progress) pile of items? My guess is you are a product crafter vs a process crafter. I am pro process but that is a story for another day. And when I share that story you will have a clickable link here.
Thank goodness that Lindsey posted on the one year anniversary of the Daisy Gaze Pullover release as it gave me the kick in the pants to see how long my nearly finished object would go from nearly there to done. And folks with the help of a tapestry needle it took me all of one hour to weave in all of those ends. I even grabbed one of my cork labels made for me by PewPew Lasercraft so I could easily discern the front from the back and the inside from the outside.
What I thought was too small fit perfectly

I had my husband assist me in getting proper measurements of my body and I wrote them all down. Too many times I thought I would remember and then I didn't. One thing I loved about the Daisy Gaze Pullover pattern was the great photos and pattern schematics. After doing my gauge test I realized that I needed to size down a hook size which is fairy common for my crochet technique.
The pattern calls for it to have a boxy look but I wanted a more fitted top as I gravitate away from things that are oversized on me. Since I had my list of measurements handy I was able to use the very clear chart to figure out what size I needed to make to achieve the perfect fit. I settled on a size 1 and since I prefer less of a crop I added two and a half inches to the bottom hem. I also have a bonus color as I wanted to try color blocking and I am happy to report that I am pleased with the results.
I loved the little details
I've made plenty of crochet dishcloths in my time but that's vastly different than creating a pullover out of cotton. On a limited trip to the mainland I had about twenty minutes to pick out yarn. After not finding what I needed at the big fabric box store I ran across the street to lobby of hobbies and found a very soft dk weight 100% cotton yarn that would work for a tee for me to wear. Bonus it was on sale so it was listed for 5.99 a ball and I believe it was 50% off.
The directions were clear and easy to follow and quite honestly the biggest complaint I have about the pattern was that the designer uses different joining techniques for things than I do. Why does this matter? Since I have been crocheting for over twenty years when I try a new technique it typically isn't as neat and even when compared to other items on the garment. In the end I used my two granny square swatches to practice and in the end used a combination of some of Lindsay's written instructions and what I already knew.
This is a paid pattern this is available on Ravelry. I prefer to read my patterns on my kindle but it has come to my attention that many of my crochet and knitting friends still print out patterns on paper and with that little tidbit in mind; this pattern is colorful and has a very retro feel to it. I love how it looked on my tablet and with that being said it may eat up a bunch of ink when you print it. You may want to print it in draft or black and white. The photos are great and I enjoy being able to enlarge the photos on my tablet when needed and I use my stylus pen and the Adobe app to write notes on my patterns.
i would totally make this again
There is a resurgence of crochet garments flowing out into the world again and for that I am truly happy. This was a fun project that didn't seem so big due to the fact that it was done in sections. I can totally see myself making this top again and who knows, maybe I will make my next one a little boxier in style. I had been thinking about making one for my granddaughter so we can have Mimi and Mini matching tops. She thinks it's fun when she matches her Mimi. But who knows when it will land on my hook next as I have more WIPS than I care to count right now and sadly this was the last one that needed the ends woven in.
The hook set I used was my grandmother's Aero set that she purchased sometime in the 1960s. I love that even though I learned to crochet years after she passed away I have a little bit of her with me each time I use her hooks. The yarn was nice to work with and its very soft. I look forward to using the leftovers for another project. I'll update later on with how the cotton yarn holds up over time.
Let me know in the comments if you decide to make a Daisy Gaze Pullover or if you already have one in your finished object pile. Maybe if there is enough interest we can do a crochet-a-long to keep us all encouraged.